Welcome to your
eleventh
stop on the new release party for the Timeless Twine.
The first new color is Cape Cod. It is a beautiful twine that has the colors gray, yellow and white.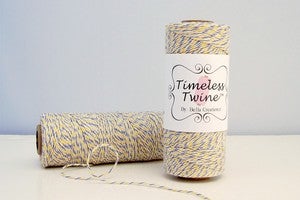 The next color is
Graphite Gray. The colors in it is white and gray.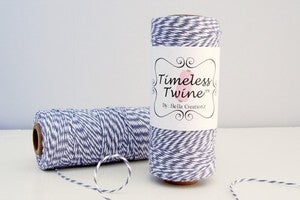 Here are two projects I made using these new colors.
Close up. I braided the gray twine for the center and added it to the printed banner. I love the multi-layer bow.
Here is a bookmark. I

applied

glossy accents to a couple of the circles and coiled the twine in a circle and then framed the paper strip in the gray twine..
Amy Kolling -
http://www.stamp-n-paradise.blogspot.com/
Amy T -
http://tsurutadesigns.blogspot.com/
Ana Maria:
http://www.shortycreations.com/
Annette:
http://myclevercreations.blogspot.com/
Brianna -
Http://www.Bloeffelbein.blogspot.com
Debbie:
http://bugjuiced.blogspot.com/
Kristy -
www.scraptasticalkreations.blogspot.com
Melisa:
http://www.melisascraftycreations.blogspot.com/
Melissa Shea:
http://scrapsbymel.blogspot.com/
Mandi -
http://mjskraze.blogspot.com/
- You are here.
Shannon Morgan:
http://designsofapaddymack.typepad.com/